South Mountain YMCA Camps partners with Aaron's Acres to provide two weeks of summer camp for kids with special needs.
The summer of 2014 blossomed on the mountain with an exciting new partnership welcoming 32 campers from Aaron's Acres.
Wernersville, July 8, 2014 – This summer South Mountain YMCA Camps partnered with Aaron's Acres for two weeks of camp (June 16-June 20) and (June 23-June 27). We were thrilled to share the mountain with this amazing group of campers along with their dedicated counselors and leadership staff. The Aaron's Acres program is for children with special needs and is designed to offer a camp experience for children who need the additional support and guidance of a professional guide and mentor. Campers participated in swimming, therapeutic riding, crafts, and a variety of games with the consistent support of a counselor. This program is amazing and working alongside these incredible children with the dedicated staff was rewarding on many levels. Aaron's Acres facilitated their program alongside Bynden Wood Day Camp for the entire two weeks. "This was our pilot year and we have already begun to plan for next summer." ~ Sue Williams, Associate Executive Director
=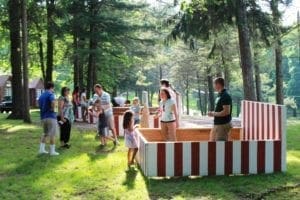 The mission of Aaron's Acres is to provide individuals with special needs ages 5–21 year-round therapeutically based age-appropriate recreational programs directed by specially trained and certified staff in a supportive environment that enhances socialization and communication skills. Emotional, educational, and recreational support is offered for the entire family. This new partnership is very exciting, as it will open doors for new relationships among people of all ages with varying abilities and challenges. "It's been our goal to make sure that every child can enjoy a summer camp experience on the mountain. Aaron's Acres has helped make that goal a reality. It's a great program for a great group of kids," said Nathan Brant, CEO. The two week session concluded with a family night carnival affording parents and siblings the opportunity to share the camp experience with their camper(s). A big thank you to all the volunteers from the Conrad Weiser and West Reading Wyomissing Rotary Clubs that helped to make the family carnival a huge success filled with laughter and smiles.