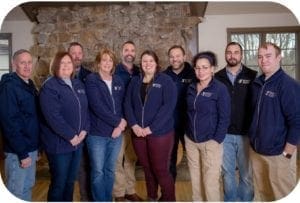 Our Team
Our team are the heart and soul of the South Mountain YMCA Camps. Our services and programs are about developing people, and it takes a dedicated and passionate team make them happen.
---
Nathan Brant
CEO

Nathan, a Pennsylvania native, has worked with YMCA Camping his entire professional career. Beginning in Carlisle as the Director of YMCA Camp Thompson and more recently serving as Executive Director of Camping Services for the Akron Area YMCA in Ohio, he has witnessed the positive power of a camp or conference center to transform children, families, business teams and communities. Nathan, his wife Kristi, and their 3 daughters are thrilled to be part of the magic on the mountain.
---
Jennifer Beck-Hill
Comptroller

Jennifer Beck-Hill is a native New Yorker and has lived in Pennsylvania since 1992. She has been employed by South Mountain YMCA as the Comptroller since 2006. She lives in Shillington with her husband, Steve and her 3 children, Emily, Ben and Bryan along with 2 dogs, Ava and Lyla and 2 cats, Bob and Fang.
---
Tracey Braymiller
Registrar & Service Coordinator

Tracey joins us on the mountain after serving in the U. S. Coast Guard for 30 years. She is a graduate of Trident University International with a degree in Business Administration, Human Resources, she is currently working on her Master's degree in Medical Administration, Human Resources. Tracey is the voice of camp she can help you with any questions that you may have about our programs. Tracey lives in Denver with her husband Norm and their daughter Emily along with their Dogs and Cats.
---
Cory Evans
Camp Conrad Weiser Director

Cory hails from upstate New York and comes to the mountain with 17 years of professional camping experience ranging in the fields of Aquatics, Archery, High Adventure, Teambuilding, Outdoor Science, Trip Leading, Day Camp, and Camp Programming. Cory oversees Camp Conrad Weiser and is always planning new and exciting activities to serve the members of our community. Cory lives on the mountain with his wife Sarah and dogs Olive and Odin. You may find Cory sailing, paddling, hiking, or snowboarding all around the east coast.
---
Becky Brandow
Outdoor Center Director

A native of Chester County, Becky started her camp career with the Girl Scouts of Eastern PA .  After graduating with a Bachelor of Music degree in Vocal Performance from Gettysburg college, she returned to camping with the Girl Scouts of Colorado, eventually making her way back to PA to be the Director of Downingtown Swim Academy.  In 2015, Becky went off into the woods for 6 months to thru-hike the Appalachian Trail.  Becky came to SMYMCA in 2016 as an Outdoor Educator and loves providing an enriching experience that encourages self-discovery and exploration of the natural world!  Becky lives on the mountain with her two cats (Pippin & Garbage) and her red-footed tortoise, Rhonda.
---
Antonio Skidmore
Youth and Family Director

Antonio joins us from Northeast Ohio, coming to the mountain with 10+ years of camping experience. Over the years he has worked at South Mountain YMCA Camps in various leadership roles including Overnight camp, Day Camp, and Outdoor Center. Antonio Lives at camp with his dog Kali, in their spare time you can find them exploring the mountain or going on road trip adventures.
---
Dale Kuntzman
Director of Facilities and Maintenance

Dale comes to the mountain with over 12 years experience in property and grounds maintenance. Dale's background includes overseeing budgets, capital improvements, energy conservation, safety, electrical, plumbing, carpentry and the operation and maintenance of heavy equipment. Dale is responsible for the efficiency, effectiveness, safety and aesthetics for 90+ buildings and over 600 acres for programming at the South Mountain YMCA Camps.
---
Brandon Tanner
Maintenance