At the South Mountain YMCA, we offer a variety of different outdoor classes to choose from. Whether you're interested in learning about science and history, exploring nature, or just having fun, we've got a program that'll fit your group. Below are the different types of school trip programs we offer:
RECREATIONAL
Air Riflery
Learn the importance of firearm safety and how to properly shoot air rifles. A certified instructor leads the group through the safety procedures of a standard shooting range and oversees target practice. Activity groups limited to 12 people. Must be at least 8 years old.
Archery
Archery provides an opportunity for participants to challenge themselves both
mentally and physically. Participants learn the importance that archery served in the past and its use today. At the archery range, our focus is on safety and personal growth. Students will find that success with a recurve bow is measured by improvement, not by bulls-eyes. USA Archery certified instructors ensure a safe and controlled environment.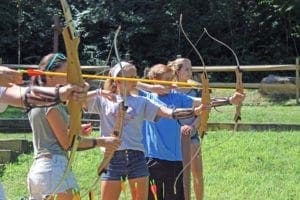 Archery Tag
Join your teammates as you duck and weave behind bunkers to avoid the other team. Archery tag is similar to dodgeball and capture the flag, instead of using a ball you use non-leathal foam arrows. Guest are outfitted with a bow, foam tipped arrow and safety face shield.
Compass Basics
What happens if the GPS runs out of battery power? Will you be able to find your way in the woods using a simple compass? In this program, participants learn the basic parts of a compass and how to use it. Their new knowledge will be put to the test using various games and having them navigate through a basic compass course. 
Court Sports
Let our fun-loving staff teach you the basics and lead your group in some friendly competition at our tennis/basketball courts. Tennis, basketball, and volleyball are all possible court-sport options. Equipment can be made available for self-facilitation as well.
Field Sports
Burn off some energy and break a sweat on one of our two athletic fields. Soccer, softball, kickball, and Ultimate Frisbee are just some of the sports that our enthusiastic staff can organize. Equipment can be made available for self-facilitation as well.
Fishing (Martin Property)
Learn to bait a hook or attach a lure, try simple casting techniques and, hopefully, experience the thrill of the catch at our beautiful pond which is located down the road from the main camp. 'Catch and release' fishing teaches patience as well as a life skill. Youth under the age of 16 do not need a fishing license.
Hike to the Peak
Let us take you on a great hike through our heavily wooded property on well-maintained trails to the summit where a stunning overlook of the valley below awaits. Can be combined with 'Hayride' for a shorter, less strenuous walk.
Map Quest
Solve the clues to figure out where your group is headed next! Participants will learn how to orient themselves using a map and enjoy roaming camp on this fast paced scavenger hunt. Adaptations for the shorter class or younger ages encourage friendly competition as groups of participants to use maps to complete a word puzzle.
Mountain Boarding
Mountain Boarding is a well established all-terrain extreme sport. Using a cross between a snowboard and a mountain bike, participants navigate camp's grassy hills. Our staff members demonstrate proper use of safety equipment (including elbow-, wrist-, knee-pads and helmets). We start off slow on a gentle slope that everyone can try then move to a more challenging incline for the adventurers in the group. Must be at least 10 years old.
Outdoor Living Skills
How can you be sure you have the right gear, proper clothing or enough food for your camping trip? Know how to prepare for an outdoor experience before venturing out. This will be a chance to learn the basics of camping craft and will include hands-on instruction in topics such as fire-building, gear-packing, stocking first aid supplies, tent-pitching, Leave-No-Trace and more.
Swimming
Come out and play or just relax in our beautiful swimming pool! The pool is staffed by YMCA Lifeguards. (Seasonal- Memorial Day through Labor Day)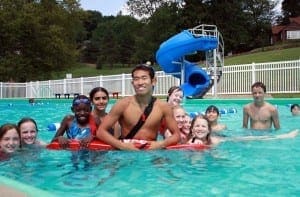 Wagon Ride
Relax in our classic wagon on a ride through the camp villages and our
woodland trails. Can be combined with 'Hike to the Peak'
SCIENCE-BASED
A Bird's Eye View
Spend some time getting to know the beautiful inhabitants of our skies. These amazing creatures have incredible adaptations to make them successful fliers, predators, mate-finders, nest builders, migrators, and much more. Touchable artifacts and interactive games make this program a hands-on adventure.
Environmental Issues
Children will investigate the issues that are affecting our environment today. Topics may include: wetland loss, acid rain, ozone, water use and endangered species.
Forest Ecology
Students explore the forest community and woodland environment. Tree identification, photosynthesis, succession, parts of a tree and human interaction and use of forest products are all part of this hands-on program. Learn fun facts about common trees of our region, play interactive games that demonstrate tree structure and forest competition, and learn about key concepts of forest succession and dynamics while hiking our extensive trail system. With over 600 acres of pristine woodlands on our mountaintop property, there's never been a better place to 'take a hike.' Participants should be prepared for moderate to strenuous walking.
Furbearers
The natural history of mammals common to this area is the focus of this lesson. Topics covered may include the basic needs of all wildlife, adaptations of wildlife to their particular habitat, interrelationships among wildlife, animal signs and tracking and wildlife management. Hands-on interactive activities are part of this program.
Jaws, Claws, Talons and Paws
Learn about the many different species of wildlife and their adaptations for survival. This is an active program where children learn about predator and prey relationships, adaptations and human impact on wildlife populations.
Pond Study (Martin Property)
Even the smallest pond is often teeming with life; however, it's not always obvious to the naked eye. The presence or lack of aquatic invertebrates is an indicator of the environmental health of a pond or stream. Collect, identify, and study these fascinating and wonderful creatures up close and personal. Investigate how watersheds work and why they are so important. The topics of erosion, the water cycle, and water pollution will be explored through experiential games and activities that bring to light how human actions affect water quality.
Tracks & Traces
For thousands of years, human survival depended upon the ability to be efficient and successful hunters. In order to do that, people had to be able to successfully track their prey. Participants will learn how to track and investigate signs that animals leave behind (tracks, scat, feathers, nests, bones) while they search the woods for signs of wildlife. Participants should be prepared for moderate to strenuous walking.
TEAMBUILDING
Challenge I: Field Initiatives
Begin a progressive experience aimed at building a group's ability to communicate and function together toward common goals. Field initiatives will be fun and challenging activities that encourage teamwork and camaraderie. Best for ages 8 and up.
Challenge II: Team Elements (Challenge I required pre-requisite)
Take the next step toward building communication and problem-solving through a series of physical and mental challenges. Participants must use critical thinking and leadership skills to solve problems as a group. Best for ages 10 and up.
Low Ropes Course (Challenge I or II required pre-requisite)
Groups build trust and confidence in one another on our Low Ropes Course. A variety of physical elements, ranging in height from inches to feet, prompt participants to think of the safety of others as well as setting and accomplish common goals. Staff members trained in safety and debriefing facilitate low ropes elements. Best for ages 12 and up.
Survival Scenario
By working together, participants navigate through various challenges in a mock survival situation. They will rely on one another to complete tasks such as negotiating an imaginary river, erecting a shelter and prioritizing the group's needs. This is a team-building program that also teaches the essentials of back-country survival.
Climbing Tower
The tower of power! In this 'Challenge by Choice' activity participants decide how high they will aim for on our three-sided climbing tower. Self-esteem increases and fears are overcome as group members encourage each other to climb to their goals and beyond. Participants wear protective gear; facilitators are trained in belaying and climbing safety equipment.
EVENING PROGRAMS:
[/expandsub1]
Campfire Skits & Songs
Enjoy an evening relaxing around a roaring fire at one of our campfire rings or indoor firesides. Our outdoor center staff will enthusiastically lead participants in songs and entertain them with stories and skits. Everyone gets the opportunity to socialize, display their theatrical talents, and be entertained! Groups can choose to lead their own campfires as well. S'mores can be added for a small fee.
Capture the Flag
A little friendly competition gets the whole gang involved in this fast-paced, physical game where teams compete to capture their opponent's' flag while defending their own. Playing while the daylight fades away provides interesting opportunities and challenges as it adds a sense of urgency to the game.
Drive-In Movie Night
Bring a pillow or blanket and relax in front of our "Big Screen." The young and the young-at-heart will enjoy spending time together while watching a PG-rated movie at our outdoor stage. Indoor spaces are available during inclement weather or by request.
Dutch Auction
Participants draw on their creativity and work in small teams to spontaneously find or construct an item specified by the "auctioneer" (such as the tallest tower, strongest bridge, cutest teddy bear) using random personal items they've brought.
Large Indoor Group Games (45 min OR 1. 5hr)
Get everybody up and on their feet. Large group initiatives engage your entire group in fun, sometimes silly, activities designed to increase communication, trust and just plain having fun!
MapQuest
See 'Recreational' class description for details. At night, participants use flashlights to navigate through the checkpoints around camp.
Night Sky
Since ancient times, people have been fascinated by the night sky. Different cultures assigned various names and images to the stars and stories were told to explain the awe-inspiring sights. This program is filled with astronomy lessons, stargazing, and stories.
Night Walk
During a walk through the night-time forest, without a flashlight, participants learn to rely on senses other than sight. Topics such as night-vision, sensory awareness, nocturnal wildlife, and comfort with the darkness are explored during this very popular activity.
Quiz Show
Watch students shine in a fun, Jeopardy-like contest that puts their knowledge to the test. Groups compete to answer questions from the classes they've taken. You will be surprised at how much they remember!
Talent Show/Skit Night
Who's line is it anyway? Use your group's creativity and our props to come up with crazy on-the-spot skits. Anything from rock band parodies to random scenes from popular books. Imaginations run wild and the laughs keep coming.
Additional fee: $60/person
Trap Shooting (2 hrs)
A certified and experienced instructor leads the group through standard firearm safety procedures before introducing the age-old sport of trapshooting where participants use shotguns to shoot clay targets. Whether a beginner or 'old hand', participants practice gun safety, personal responsibility and sportsmanship while enjoying their time at the range. Group size limitations apply, call for availability.
Additional fee: $60/person.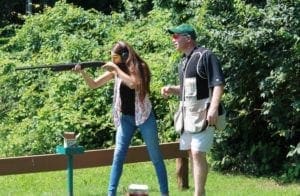 Additional fee: $40/person
Zip Lining
Once you have conquered the climbing tower, take the zipline down to the ground. Exciting for all ages and abilities.
Additional fee: $40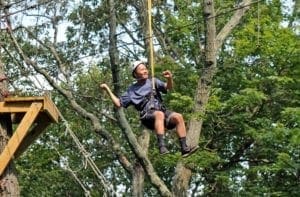 Interested in signing up for our school trip programs? Contact South Mountain YMCA today!