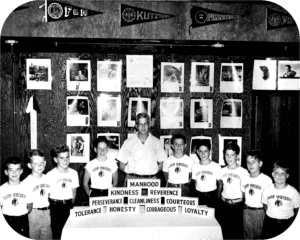 Welcome Home!
The Camp experience and the lasting friendships made here on the mountain are not easily forgotten. Camp alumni – campers, parents, staff, or volunteers – carry on the camp spirit for the rest of their lives. Our alumni are invaluable to us because they not only hold the memories of past camp years, but often bring their own families and friends back to camp for new adventures.
Feel free to browse this portion of the website to get in touch with other alumni, share your camp memories, and maybe even find yet another way that you can experience the South Mountain YMCA Camps. Keep the Fires Burning!
How Our Alumni Can Stay Connected
We've gone "Social" – keep up to date and involved through our Social Media Connections at the bottom of this page.
---