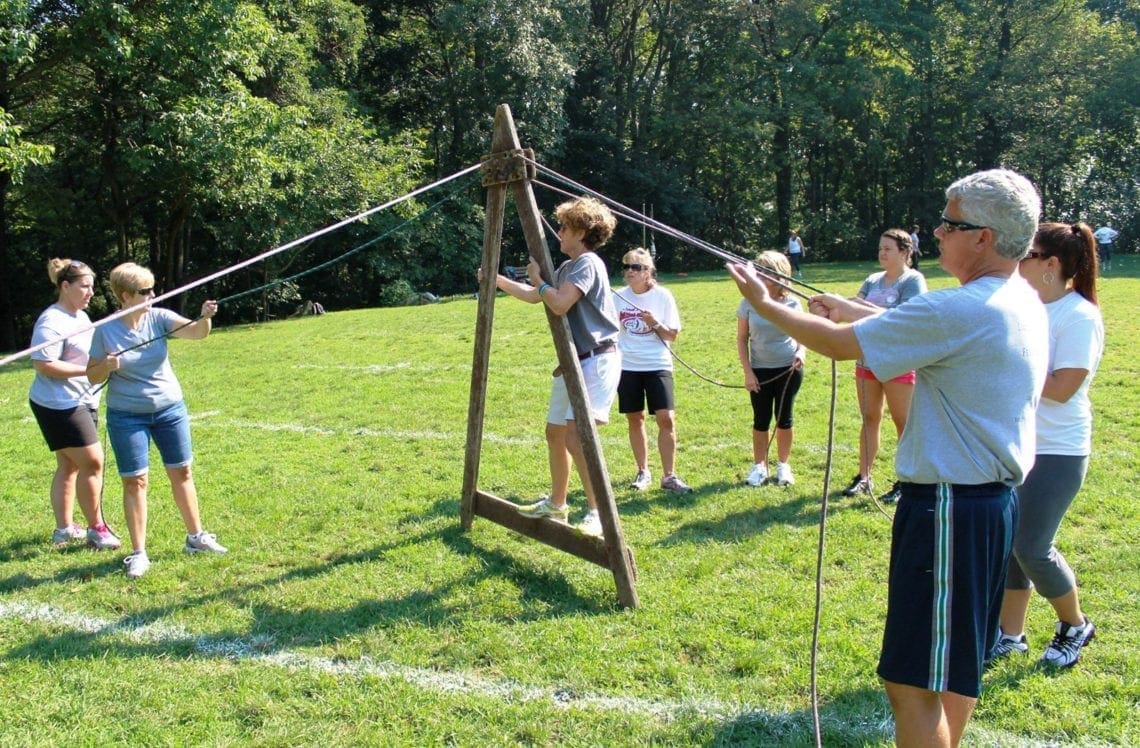 Team Building Through Shared Experiences
Groups of all sizes learn to trust, encourage, communicate, problem solve, and raise the level of group cooperation. Our Challenge Course offers a unique opportunity to experience a series of challenges, indoors or outdoors, from ground-level to the tree-tops. Ideal for Boards of Directors, School Groups, Youth Groups, Management Teams, or any group that desires to work together more effectively.
We communicate with group organizers ahead of time to discover each team's particular areas for development and focus. Then, our skilled facilitators' custom-design activities to meet those needs. Your team members will get a renewed feeling of company culture and values, while also feeling closer to the rest of the group through team bonding.
At South Mountain Adventures, team building programs may be done on our high ropes course, climbing tower, or low ropes course, as well as in our conferencing facilities. Our facilitators and activities can travel to your site, too!
---
What would team building exercises look like?
This really depends on your needs. We can break it into Traditional Team Building and Recreational Team Building.
Traditional Team Building: A traditional team building session could run from 2 hours to 2 days. It would begin with setting a full-value contract, processing an ice-breaker activity or two, and then moving into a series of challenges that are designed to develop your communication, trust and problem-solving skills. In between each activity, a trained facilitator would help your group process the experience by asking a series of open-ended questions and seeking each individual's feedback. The challenges could take place in a field, conference room, or on a high ropes course.
Recreational Team Building: In a recreational team building session, your goal may simply to be to create a "unique, shared experience" for your team. This experience may be an Adventure Race, shooting on our Trap Range, Zip-Lining, or hiking to Cushion Peak. We would work with you to plan an outstanding event that your whole team can participate in and will remember for years!
To pre-register for this program, please contact Becky Brandow at 610-670-2267, ext. 250, or at rbrandow@smymca.org
---