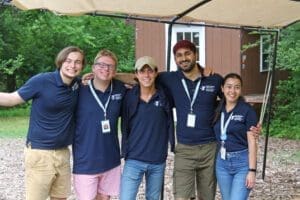 At the South Mountain YMCA Camps we are constantly working to identify and recruit program and leadership talent. More than skills, we want people on our team that love working with children, families, and adults – we want staff that love seeing people grow! You, too, will grow during your employment at South Mountain.
If you believe you have the character, the skills, and the desire to develop and serve the visitors to our camp community, you may be the person we have been looking for. We're looking for an educator, a role model, and someone who leaves a place better than they found it. We look forward to meeting you soon.
---
Outdoor Center Employment Positions
Outdoor Center Program Instructor/Educator
Full-Time Seasonal Program Instructor/Educator (21+)
Fall Season: August 29 -November 20
If you are person who loves the outdoors and enjoys working with a team. If you are an enthusiastic, positive role model with outdoor center/camp/teaching experience who could 'knock it out of the park (or camp!)' presenting programs to groups of all ages. If you are already familiar with, expert in, or eager to learn about archery, belaying, teambuilding, ropes courses, wilderness survival skills, nature, environmental studies or outdoor education. If you are passionate lifetime learner who wants to make a difference and would thrive working with a diverse, like-minded staff providing an EXTRAORDINARY EXPEREINCE for every camp visitor! We want YOU!
Full-time Seasonal Coordinators live on-site, work as part of a team of enthusiastic, energetic leaders who teach outdoor education classes and lead recreational activities such as: Wildlife Ecology, Archery, Survival Scenario, Teambuilding Challenges, High Ropes & Low Ropes, Climbing Tower, Environmental Education, Arts & Crafts and other traditional camp activities. Candidates must LOVE to work outside, have a sense of humor, enjoy working with children and other outdoor educators and know the value of PLAY for people of all ages! The "typical" work week for Outdoor Center staff runs Wednesday through Sunday but will vary during the busy season. Salary range is $80-$90/day. On-site lodging and meals are provided. Training for the Fall season begins August 29 and the season runs until November 20.
To contact our Outdoor Center Director, Becky Brandow, please e-mail rbrandow@smymca.org

---
Summer Camp Positions
Leadership Positions
Leadership Positions: As part of our administrative team, our leadership staff are an important part of our staff team. Leadership staff must be at least 21 years of age and have previous camping experience. Pay is $375+ per week depending on experience. For full Job Descriptions, please click on each position:
Counselor Positions
Counselors Positions: The counselors have the most direct impact on a child's experience at camp. We are seeking dedicated, fun, enthusiastic staff who understand that "Campers Come First." Counselors must be at least 18 years of age. All counselors will teach in one of our program areas and co-lead a cabin of 8-12 children. Pay starts at $350 per week. For full Job Description, please click on each position:
Junior Counselor Positions
Junior Counselor Positions: The Junior Counselor position is for young adults who are 17 years of age who have not graduated from high school. Previous completion of our CiT Program is required.  This is a volunteer position for a duration of 2 weeks. Junior Counselors and support counselors in supervising children and leading activities. For full Job Description, please click here.
Camp Nurse Positions
Camp Nurse Positions: The South Mountain YMCA Camp's Health Lodge Staff are RN's or LPN's licensed in the State of Pennsylvania.  Experience as a school nurse, in a hospital or emergency room is helpful but not required.  The ability to relate effectively to children, parents and college-age staff is essential. Pay is $700.00 – $900.00 per week depending on experience.
Camp Driver Positions
Camp Driver Positions: Camp Drivers are individuals 21 years of age or older who possess a valid US Driver's License. Camp Drivers have a responsibility to transport campers and staff using camp vehicles for program purposes. Full-time seasonal and part-time seasonal positions are available.  For full Job Description, please click here.
Summer 2022 Season Dates
Mandatory training begins June 3/June 6
Camp Conrad Weiser season ends August 13
Bynden Wood Day Camp season ends August 19
---
2022 Summer Camp Staff Benefits Package
This summer, you'll be a change-maker for the next generation by positively influencing the emotional lives of kids. At the same time, you'll develop and practice skills employers need: communication, collaboration, creativity, problem-solving, and critical thinking. Working outdoors with other highly-motivated, hardworking, and energetic young adult leaders you'll create an epic summer camp experience. This summer, you will be making a difference.
Personal Benefits
Pay: $3,000 and $5000.Summer Camp Counselors make between $3000 and $5000 for the summer season. Variations in pay are based on total weeks of work, experience, and certifications. *For first-year international staff  pay is dictated by the visa sponsor agency.
Mental Health Support. In our Health Center, we provide access to telehealth in private settings for staff with pre-existing therapeutic relationships. We also have a partnership with mental health professionals who can speak with our staff virtually or in-person, and we provide mental health awareness training.
Staff Events.We'll schedule staff outings to places like NYC, Philadelphia, and Washington D.C. We'll organize staff trips on time-off to destinations like Hershey Park, Dorney Park, or Knoebels. Staff appreciation nights throughout the season, and an "end of summer" banquet are also special staff events to look forward to.
Time-Off. Evening Breaks, Full 24 hours off every week with extended leave in between each overnight camp session.
Lifestyle. Live together with your peers and receive FREE housing, meals, laundry, Wi-Fi, trainings, leadership development, and certifications. You'll be part of something; part of a team that positively impacts the lives of children.
Professional Benefits
Professional Certifications. First Aid, CPR, and Lifeguarding are just a few of the professional certifications you can acquire at Camp and take with you for future positions.
Professional Development. You'll receive individualized feedback on your performance and benefit from direct collaboration with a camp mentor. We are happy to partner on internship opportunities so you'll receive credit from for your summer experience in your college career. We'll also provide year-round support assisting in resume building and providing letters of reference.
Endorsements. Beginning in 2022, we'll be providing "endorsements" for your work and training in areas like Leadership and Childcare. These endorsements will provide bullet points that outline your experience with various skills that will assist future employers in understanding the value of your work history.
More resources
For more information on Summer Camp Positions, call Antonio or Cory at 610-670-2267.
---
Facilities and Food Services Positions
Seasonally, we seek staff to assist our Food Service team in the preparation and serving of meals in our Dining Hall. The height of our season is from April through October. We also seek staff to assist our Facilities Director with landscaping work and maintenance projects needed at South Mountain YMCA Camps.
Seasonal positions available:
Food service
Facilities
Housekeeping
Find a printable application here. However, we encourage you to apply directly through our portal.
To contact our Facilities Director, Dale Kuntzman, please e-mail dkuntzman@smymca.org.
---
---