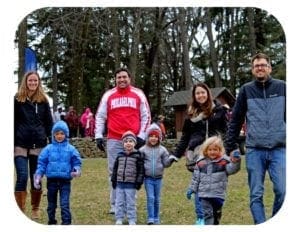 South Mountain YMCA Camps is now offering private Family Adventure Days.  Bring your family or a group of friends to the mountain and have a fun-filled camp adventure.  The perfect opportunity for our future campers to see what camp is all about before the summer!
Make your own adventure and select three activities from the list below:
Depending on the activities selected and the number of participants, your adventure could be a 3-5 hour experience! Not sure what to pick? Call us at camp and let our staff help you choose which programs are right for your family.
Climbing Tower
The tower of power! In this 'Challenge by Choice' activity participants decide how high they will aim for on our three-sided climbing tower. Self-esteem increases and fears are overcome as group members encourage each other to climb to their goals and beyond. Participants wear protective gear; facilitators are trained in belaying and climbing safety equipment.
Archery
Test your aim and learn to shoot with a compound bow and arrows. Archery provides an opportunity for participants to challenge themselves both
mentally and physically. USA Archery certified instructors ensure a safe and controlled environment.
Arts & Crafts
We will provide the materials and instruction for a variety of simple do-it-yourself craft projects that range from beading to candle-making.
Guided Peak Hike
Let us take you on a great hike through our heavily wooded property on well-maintained trails to the summit where a stunning overlook of the valley below awaits.
Outdoor Living Skills
How can you be sure you have the right gear, proper clothing or enough food for your camping trip? Know how to prepare for an outdoor experience before venturing out. This will be a chance to learn the basics of camping craft and will include hands-on instruction in topics such as fire-building, gear-packing, stocking first aid supplies, tent-pitching, Leave-No-Trace and more.
Please note that we are currently not offering Family Adventure Days during the summer months.
Schedule your adventure today by giving us a call at 610-670-2267