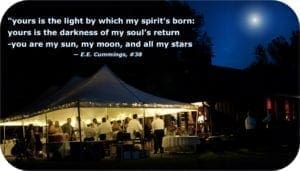 We rent our facilities for Weddings & other Special Events when summer camps are not in session.  Need catering? Our chef will work with you to create a menu to fit your tastes and budget.  We also work with several local caterers that would be happy to plan your day.
Why not make a weekend of it? Many of our wedding couples have made their special day into a full weekend of fun using camp cabins, food service and programs for pre- and post- wedding lodging and events. For additional information and for a tour of our wedding facilities, contact the Outdoor Center Director
---
From Suzanne & Steve, married 9/11/2010 :
"Having our wedding events at camp meant so much to us since this is where we met, but I can also see the attraction to those who don't have as much of an attachment as us. One of the many great things was that we were there for 3 days and by having that extra time it felt so much more relaxed. It was wonderful being able to spend all that time with family and friends without any other distractions. I have to admit that I was a little afraid of some of my 'non-campy' family sleeping in a log cabin, but everything was so clean and modern that they were all pleasantly surprised and had a great time.
"The food was wonderful! I wasn't sure how the catering would be since they are used to cooking for kids but the camp Chef made up a delicious menu. One of the many highlights was the campfire we had after the reception. Something that I will never forget is seeing my 90 year old grandmother staying up and joining us at the campfire! It was great to sit around the fire and not have to say goodbye to our guests just yet because they were all staying overnight in the cabins near us. The camp activities were something I will never forget either. Watching my mom shoot a bow and arrow for the first time was a laugh!
"Another thing that Steve and I liked was the fact that the money we spent for our wedding would go to help South Mountain YMCA build programs that help children. It was wonderful to share camp with our close friends and family. After it was all over I asked my husband when we could do it again! (maybe 25th anniversary?) It truly was the best day of our lives. Thank you for allowing us to have it there!"
Contact us today to learn more about our wedding facilities!
---