The Peak Pass (NEW for 2021 – 2022)
Welcome to the Mountain! When you apply for the Peak Pass your are embarking on a year of adventure. When summer camps are not in session, you will have access to our trails for hiking, trail running, biking, cross country skiing, or snowshoeing.
The Peak Pass was developed to provide the public with access to the trails and history that is located on the grounds of South Mountain YMCA Camps.  It is designed to encourage responsible stewardship of our natural resources (Water, Wildlife, Forests, and soils), and to the personal growth that results when individuals spend quality time in the outdoors.  These programs also incorporate and encourage members to uphold our YMCA's four core values: Caring, Honesty, Respect, and Responsibility.
Dates:
September 1, 2021 – June 1, 2022 (closed June, July and August for our Summer Camp Programs)
Fees: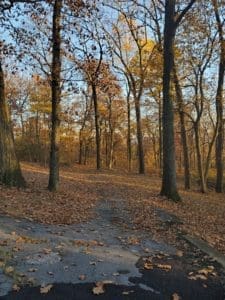 Individual:  $50.00
Family (must be in the same household):  $50.00 (first person) $10.00 (each additional person)
Guests: $10.00 (Peak Pass holders may bring one guest per day visit for an additional activity fee of $10.00, payable at the Camp Office upon checking in.  The camp office is open Monday – Friday 9 am – 5 pm, or by appointment. Please note that your guest will be subject to a background check at that time and will be given a printed guest badge (for that specific day only) that must be worn while they are on property.
The fees accompanying your application cover background checks, identification cards, parking permits, and trail maintenance for the year. You will also be provided a Rules and Regulations Handbook for the season. It is your responsibility to adhere to the rules of the program, failure to do so could result in the revocation of you pass without refund.
Only South Mountain YMCA Camps' Campers and guests, Peak Pass Holders and Staff are permitted to access South Mountain YMCA Camps' property.
To view our Peak Pass Rules and Regulations Click Here.  To apply for this program, Click Here for the Pass Application.  Once you complete your application please bring it along with a Driver's License to South Mountain YMCA Camps' Office during office hours Monday – Friday 9am – 5pm. 
Please call Tracey Braymiller at 610-670-2267, or email at ycamps@smymca.org with any questions. 
---
FAQ:
Q: Are there restroom facilities?
A: Currently the only full-service restroom available to Peak Pass Holders is in the Camp Office.  There is also a portable restroom at Cushion Peak.  Please plan your trip accordingly.
Q: Can I bring my dog(s) on a hike with me?
A: Yes, we love dogs, but they may make others nervous. To keep our trails welcoming for all our guests dogs must be on a leash at all times. Reminder please clean up after your dog(s).
Q: Is hunting permitted?
A: No, we do not allow hunting on South Mountain YMCA property.
Q: Where do I park my car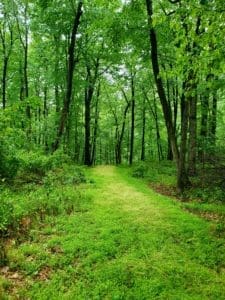 A: As of September 2021, the only parking lot available for Peak Pass holders will be the gravel lot next to the climbing tower (across the road from the playground and Bynden Wood Lodge). Please note your parking pass should be displayed on the rear view mirror or on dash where it can easily be seen.
Q: Are we allowed to have a camp fire?
A: No, campfires are prohibited outside of staff-led programs.
More questions can be answered by reading the Peak Pass Rules and Regulations handbook, by clicking here.
---