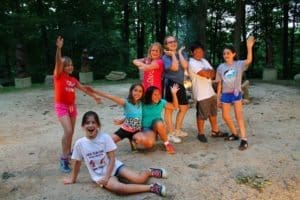 Every year during the months of June, July, and August, young people gather at camps all over the country. Free from deadlines, rubrics, clubs, practices, and the monotonous yet tedious schedules created for them, these kids and teens swiftly embrace the season of Summer. For those who have the opportunity, camp is a safe haven in many respects. It's a collective of diverse minds and experiences all loosely connected by their desire to be a part of a community. It's this community that helps shape your child into a creative, empathetic, and strong adult.
Young people are practicing! One of the coolest things about camp is that kids can be whoever they want to be. There is no expectation for them other than to be a participant. This freedom from labels and pressure to figure out who they are going to be allows campers to try on different "characters". One year they may play the shy book-worm, another year the comedian, the next the athlete. Kids get to play-pretend with their persona in a safe and nurturing environment surrounded by caring young adults who understand how confusing growing up can get. They get to explore and question and imagine and play. This freedom, combined with activities designed to challenge and push boundaries, that foster trust, critical thinking, team work, communication, and empathy, and that inspire independence and confidence is what creates our camp community.
The common understanding that everyone is practicing and trying on characters creates a continually growing supportive community of individuals that makes camp so special to those who get to experience it. And this is what camp is truly all about. Helping our kids to become strong, healthy, well-rounded individuals who will contribute to the world in positive ways.
To find out more about our programs or our staff, feel free to check us out on the web at www.smymca.org or contact one of our Camp Directors:
Amanda Griffith, Bynden Wood Day Camp Director, agriffith@smymca.org
Kam Kobeissi, Camp Conrad Weiser Director, kkobeissi@smymca.org