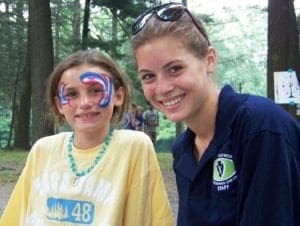 So you have made the decision to send your child to summer camp.  It was a great decision.  Thank you.  You chose for your offspring to learn about the outdoors and themselves while meeting interesting people and making new friends.  Well done.
What is summer camp?  It's a child's Shangri La.  It's a place to learn, grow, make friends, and have fun.  Summer Camp is where your child begins a journey of self-discovery which will change her forever.  Simply put – it's the experience of a lifetime for a child!
Now you have questions, "Is my child ready for this?"  "Am I ready for this?"
Don't Panic
It's early now and you have time to worry about the big questions.  Remember why you felt a summer camp experience was important for your child.  As he matures, it's important for him to take his first steps into the-big-bad-world.  There is no safer, better supervised environment for him to test the wings of his new-found independence than in summer camp.
Ask Questions
What your 4th grade English teacher said was true, "there are no stupid questions."  If you, the parent, never went to summer camp we expect you to have a lot of questions.  Even if you went to summer camp last century, believe us when we say a lot has changed.  Parents should call, email, or visit their summer camp until they have every questioned answered.  Don't worry about us, we love to talk about camp.
Stay in Touch
Join Camp's Facebook Page.  Follow Camp on Twitter.  Visit the website every week.  Visit Camp for our Family Fun Days.  We are confident, the more interaction you have with camp staff, the more you spend time with us, the more comfortable you will be when your child goes away for a week or two this summer.
Visit
You've seen the brochure.  You watched the videos.  You've visited the website.  You've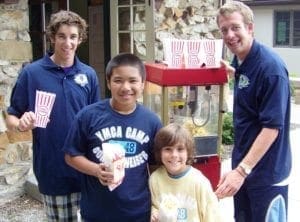 talked to camp staff.  Visit the Camp!  We believe it's worth the drive, and it will give you and your new camper another chance to ask questions and get comfortable.
Be Brave for Your Child
After 20 years on summer camp staff (combined), there is a dirty little secret about homesickness we think you ought to know:  Your fond farewells on the first day of camp can often cause – or alleviate – homesickness.  If your camper sees you are nervous and sad at the start of camp, she will feel that way, too.  She will often feel sad for you.  Be strong for your new camper.  Let her know how excited you are for her to have this new experience.  Let her know you will be alright while she is gone.  It will make all the difference.
Take Time for Yourself.
Parents deserve a break.  Summer camp can give you that break.  You are unlikely to ever have a better trained person looking after the needs of your child than during a week of summer camp.  Our staff are CPR and 1st Aid Certified, they have been trained in dozens of fun games and activities, they sleep in the same room with the kids they care for, and watch what they eat at meals.  Take a break while your child is away and in good hands.  Watch a movie.  Visit a spa.  Recharge your batteries.
Celebrate the Accomplishment
Celebrate the accomplishment of completing the first week away at summer camp (for you and your child).  After camp, go to a favorite restaurant share with your child how proud you are of him.  Chances are, he will have a lot to talk about.
Know that your child is going to learn new things, build self- esteem, make new friends, and be cared for by excellent camp counselors who are there for you child.
We at YMCA Camp Conrad Weiser are here to ensure child has the best summer ever.  If you have any questions about summer camp please call us on the mountain and we will be happy to talk. Call 610-670-2267.
Written by Jeff Henry & Nathan Brant