South Mountain YMCA Camps is pleased to honor Emeritus Director at the Annual Holiday Social.    
Wernersville, December 2015 – On Tuesday December 8th Dr. John W. Gruber received the South Mountain YMCA Camps Lifetime Achievement Award at the organization's annual Holiday Social. More than 50 individuals joined Board members, staff and camp alum at Canal Street Pub & Restaurant to pay tribute to one of Camps Champions. "It is truly an honor to recognize and celebrate a volunteer that exemplifies the spirit of giving. Our organization is blessed to have men and women like Dr. Gruber that grew up at camp, worked at camp, and continue to support camp through their time, talent and treasure." ~ Nathan Brant, CEO
Dr. Gruber has been involved with Camp since its founding, working as a staff member in the early 1950s and continuing into his medical school years. After completing medical school and returning to Berks County, Dr. Gruber joined the Board of Directors and served as an active member until 2010, at which point he became an Emeritus Member. He chaired our 2004 capital campaign effort and is currently serving as honorary co-chair of our "Camp For All" capital campaign effort. In his remarks at the Holiday Social, he spoke of the impact his "Camp Family" has had over the years and his love of the mountain and the people that have been part of this program.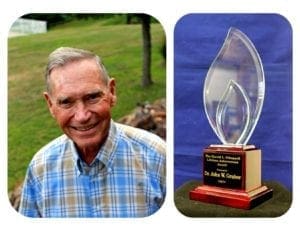 A few words about the award: The Harold L. Schappell Lifetime Achievement Award recognizes and honors an exceptional individual that makes volunteerism and community service a way of life. Recipients embody a sense of compassion and responsibility for others expressed through their dedication to assisting individuals and organizations for the betterment of our community. Their extraordinary contributions truly make a difference in the lives of others and in the community. Lifetime Achievement Award winners receive a glass award in the shape of a flame or campfire.
Previous Award Winners include the Inaugural recipient, Harold L. Schappell, retired Facilities Director honored in December 2013 and Glenn O. Miller, (aka Hugsy or Popsy), one of our Camp Legends in December 2014.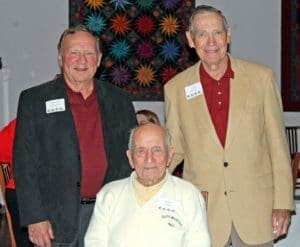 Seated in front, Glenn O. Miller.
Standing in back Harold L. Schappell and Dr. John W. Gruber.