Mark your calendars and join us for our Capital Campaign Kick-Off Event!!!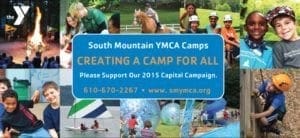 We hope you'll join us in our efforts to create a CAMP FOR ALL! Please dress comfortably (camp-appropriate clothing and footwear). Following an initial presentation, we will be opening the climbing tower, zip-line, archery range and Zorbs for your enjoyment. We will also offer wagon tours of our campus. Cookout-style refreshments will be served along with adult beverages in Bynden Wood Lodge following the activities.
Please RSVP to Michele Reinert at 610-670-2267 or by email at mreinert@smymca.org.
Last Call for 2015 Summer Fun Raffle Tickets…
This week is your last chance to purchase 2015 Summer Fun Raffle Tickets. All proceeds benefit our REACH OUT FOR YOUTH campaign providing camp scholarships
to kids, families, schools and community organizations. Tickets are $10 and the drawing will be held August 22, 2015. Contact the Camp Office to purchase your tickets at 610-670.2267.

1st Prize is a 2-Week Session at Camp Conrad Weiser or a red Emotion Spitfire 8 kayak.
2nd Prize is a Family Camp Weekend for 4 or a GoPro Hero 3 camera (white edition and waterproof).
3rd Prize is a 1-Week session at Bynden Wood Day Camp or a Galaxy Series ECEEN solar backpack with charger.
Cast Your Vote for the Best of Berks 2015!!!
Have you voted for Bynden Wood Day Camp and Camp Conrad Weiser yet? Please do!!!Vote the South Mountain YMCA Camps (Camp Conrad Weiser or Bynden Wood Day Camp) as the BEST OF BERKS! You can vote once from every device you own. Vote early and often!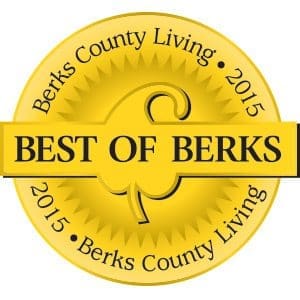 Now is your opportunity to VOTE for the Best of Berks! Deadline for voting is September 10, 2015! One vote per computer will be accepted.