By Katherine Rosman
Reposted from The Wall Street Journal (July 21, 2010)
Instead of bridesmaids and groomsmen, there will be "head counselors" when Serena Orgel, 35, and Josh Young, 36, get married this September at Lake Bryn Mawr Camp in Honesdale, Pa. Instead of bridesmaids and groomsmen, there will be "head counselors" when Serena Orgel, 35, and Josh Young, 36, get married this September at Lake Bryn Mawr Camp in Honesdale, Pa. During the weekend festivities, guests will sing songs in a talent show and roast marshmallows at a bonfire. The newlyweds plan to paddle away in a canoe with a "Just Married" sign. Guest attire? "Camp chic," says the bride-to-be.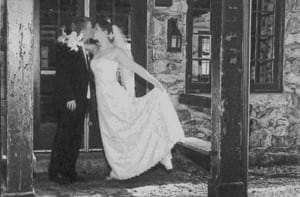 Sleep-away camps—where kids swim in chilly lakes, make macramé bracelets and aim their arrows at archery targets—are finding a new life in the off-season as the host of weddings, bar mitzvahs, 40th birthday parties and other events. Many wedding facilities are remote and more rustic than what many people think of as their ideal weekend away. Guests can expect to sleep in bunk-beds, stow dresses and bowties in cubbies, and spray on bug spray instead of perfume.
"Most people have to figure out who they're going to seat together. We have to decide who is going to sleep together," says groom-to-be Mr. Young, who expects to have four couples in each cabin.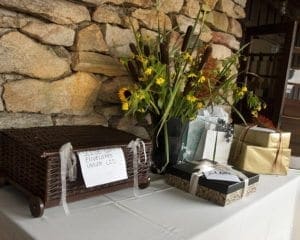 By the time 31-year-olds Sarah Regensdorf and Justin Greenbaum of Ft. Lauderdale, Fl., got engaged, they'd been to so many local weddings that Mr. Greenbaum wanted to plan something that would be new for their friends. The bride's wish: Camp Highlander in the mountains of Mills River, N.C., where she had been a camper for several summers in middle school.
So this past May, their 130 guests were picked up at the airport in yellow camp buses, called to meals by a bell, slept in cabins, did Mad Libs, and divided into teams for color war. On the wedding day, adults signed up for activities like horseback riding. One man got stuck on the zip-line. Says Ms. Regensdorf, a real-estate agent, "I'm not sure it's meant for 30-year-old men."
Many of the couple's friends initially balked at the idea of mosquitoes and mess halls. Through the grapevine, Ms. Regensdorf says she learned, "People were saying, 'Are there going to be mirrors in the bathroom? How am I going to get ready?" she says. Once at camp, though, just about everyone adapted.
When friend-of-the-groom and first-time-camper Eric Darienzo noticed in his cabin spiders "roughly the size of a computer mouse," he put on his wife's pink Juicy Couture hoodie sweatshirt, pulled the draw-string tight around his face and rolled himself burrito-style in a sheet. "I grew up in New York City," says Mr. Darienzo, 31.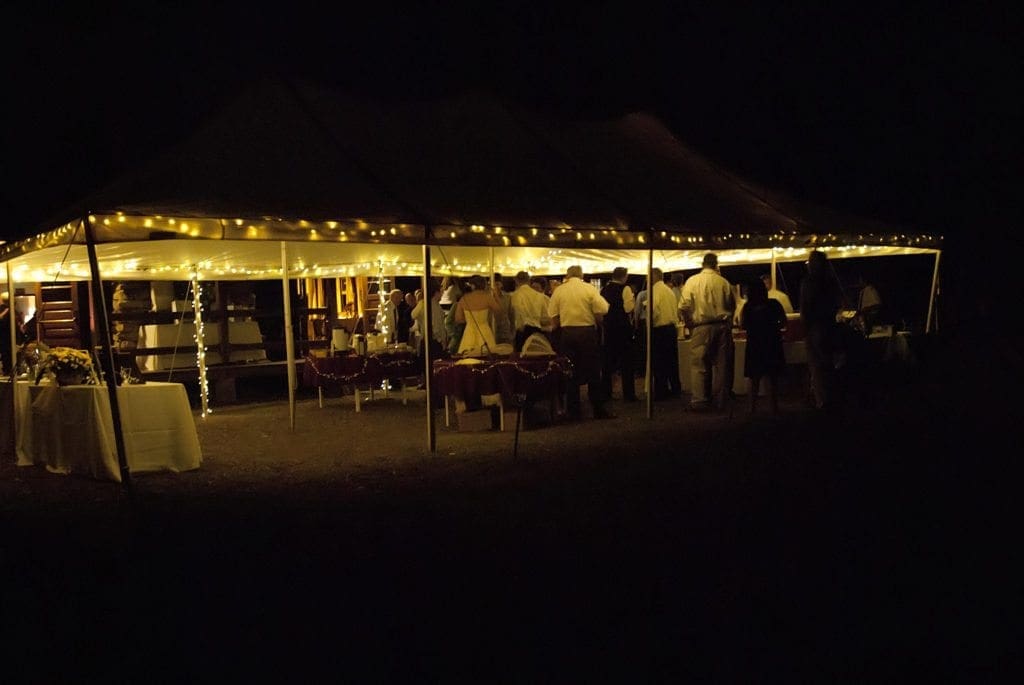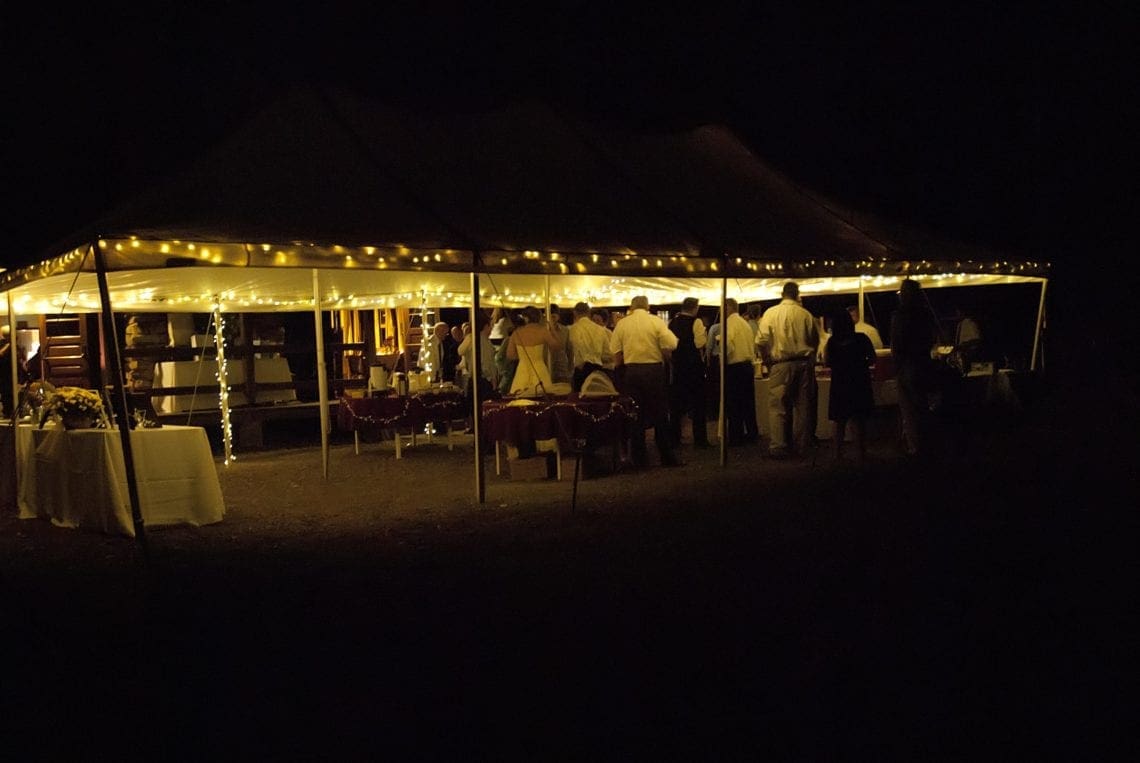 For camps, the business provides much-needed revenue. Camps face escalating real-estate and insurance costs, shrinking summer seasons as many schools end later in the Northeast and start earlier in the South, and rising competition from other activities like specialized sports and travel programs. As well, tuition for seven-week camp—which can reach about $10,000—is steep.
By comparison, a wedding weekend at Lake Bryn Mawr Camp ranges in cost from between $30,000 and $50,000, says co-owner Dan Kagan. A five-hour affair at a New York City venue can cost as much.
Camp Tamakwa (in Algonquin Park, Canada, and accessible only by boat) accommodates special events with rented china and servers from Toronto as a way to make money and introduce camp to the parents of prospective campers. "I feel like a bit of a wedding planner," says the camp's co-owner Craig Perlmutter.
Last month, Darren Anixter, 38, convinced nearly 100 friends to leave their families for a guys weekend of basketball and bunk beds at Camp Ojibwa in Eagle River, Wis. "You feel like you're a kid when you're there," says Mr. Anixter, who attended Ojibwa from 1981 to 1994 and whose three sons are currently Ojibwa campers.
Many of his friends forgot, though, that being a kid at camp isn't like being an adult on vacation. An amplified bugle woke them at 7:30 a.m. and breakfast was served at 8:15 sharp. "There is a lot of complaining," says Mr. Anixter, co-owner of a family business which distributes electrical wire and cable in Highland Park., Ill.
Trail's End Camp in Beach Lake, Pa., opened as a coed sleep-away camp in 1947. Co-owner Marc Honigfeld has winterized some buildings and when he puts in new ones, he focuses on multi-purpose: a hockey arena doubles as a dance hall. He stays open from early May through mid-October, with seven weeks in the middle for summer camp sandwiched by special-event season.
By summer, the dining hall, with slate stonework and picturesque views, is filled with color-war banners and wooden chairs. In the spring and autumn, round dining tables, dim lighting and a dance floor move in. The chef prepares burgers for the campers and sea bass for the party guests.
The family throwing the first big bat mitzvah at Trail's End used as a party planner, David Tutera, who organizes glitzy events like former "The View" co-host Star Jones whose 2004 wedding, with golden place-settings and a separate ballroom for dessert, was covered in the tabloids. At camp, Mr. Tutera draped the ceiling of the sports arena in fabric and brought in couches. "A lot of people want a campy feel but they also want a five-star New York hotel," Mr. Honigfeld says.
Alexandra Kosky Stern, 12, is currently honing her canoe portage skills at Camp Thunderbird for Girls in Bemidji, Minn. But a week after camp ends in mid-August, she will be bat mitzvahed there, surrounded by about 30 family friends and relatives from around the Midwest.
"Camp is her favorite place in the world," says her father, Trip Stern, 41, who along with his brothers spent his summer across Lake Plantagenet at Camp Thunderbird for Boys. After the ceremony in the woods, guests will eat brunch on picnic tables with pinecone centerpieces made in the arts-and-crafts hut.
"Camp is about learning how to become your own person and that's what a bat mitzvah means too," says Alex, who proposed the setting to her parents.
When planning her daughter's wedding in 2005, Robin Jaffin went to look at hotels in Florida with her daughter Allison and son-in-law-to-be, Seth Unger. Each ballroom they visited, Mr. Unger would ask the hotel, "Can we put a volleyball court in the parking lot?" Finally Mrs. Jaffin said, "You don't want a wedding. You want camp."
"Done," said Mr. Unger.
"My idea of what my daughter's wedding would be went down the toilet," says Mrs. Jaffin.
The couple were married at a camp in Kent, Conn. Their nearly 300 guests competed in a three-legged race and a canoe race. They ate a gigantic s'more for wedding cake. The father-of-the-bride carried a bullhorn much of the weekend as "camp director." After dancing the hora at the Sunday morning ceremony, the bride and groom jumped in the lake in full wedding attire.
This weekend, the couple, with their two daughters, will be returning to camp to celebrate their 5th wedding anniversary with 50 friends and relatives. Ms. Jaffin's parents have a reservation at a nearby bed and breakfast.
~~~~~~~~~~~~~~~~~~~~~~~~~~~~~~~~~~~~~~~~~~~~~~~~~
For information about holding your special event at South Mountain YMCA Camps contact Audrey: apreston@smymca.org