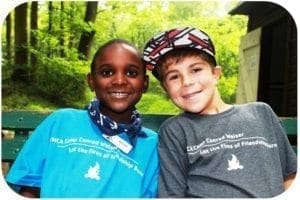 Over the past 5 years, I have frequently been asked this question:  "Why are your Camp Programs cheaper than comparable programs in the region?"
It's a reasonable question.  YMCA Camp Conrad Weiser and Bynden Wood Day Camp share some incredible facilities, program opportunities and staff.  We have 600 acres, 98 rooftops, and program facilities that allow us to offer our campers:
Horseback Riding:  English Riding (Lessons and Camps), Trail Rides & Pony Rides
Ropes Courses:  A Climbing Tower, A Zip Line longer than a football field & High and Low Ropes Courses
Target Sports:  Trap Shooting (Shotguns and Clay Pigeons), Rifles, Archery, BB Guns & Sling Shots
Adventure Programs:  Zorb Balls, Mountain Bikes & Mountain Boards
Creative Arts:  Guitars, Drumming, Wood Burning, A Radio Station, Digital Photography & Tons of Camp Crafts
Theme Programs
Nature Programs:  Outdoor Living Skills, Natural World Programs, Hiking & Fishing
Sports:  Sports, Ultimate Frisbee, Flag Football, Volleyball, Basketball, Tennis and much more
Waterfront Programs:  Canoeing, Kayaking, Sailing & Swimming in our outdoor pool
International Trips to Germany, Spain and Russia
The simple answer to the question posed in the opening paragraph is this:  "We have donors and endowments that have allowed us to keep the price of summer camp artificially low."
In the case of YMCA Camp Conrad Weiser, we priced our program $250-$400 less than the actual per-camper-cost to offer the program.  We did this because we wanted to make camp available to everyone.  But it hurt us.  People enjoyed the lower rates and we grew by double-digit percentages over the past 3 years.  As more children were able to attend Camp, our costs went up, but the fees weren't there to meet our expenses.  So, this winter we went back to the drawing board.
Our Goal:  Keep Camp Affordable and Available to All (and try not to lose money doing it).  Simple, right?
In 2014, we are offering a new pricing structure.  This "Tier Pricing Structure"*** has been implemented at camps all over the country to address the very concerns I posed earlier in this post.  This approach begins by explaining what Camp actually costs:  $815 per camper, per week.  But we realize that families have different abilities to pay.  The true cost of camp, $815, is only one of four pricing options for a family to choose from.  We believe that the voluntary, 4-Tier pricing program will make Camp Conrad Weiser available to more families.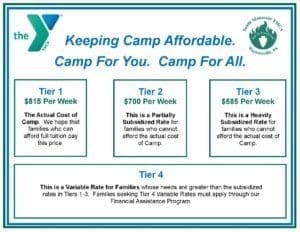 This is strictly an honor system program.  When you register your camper for Camp Conrad Weiser in 2014, simply select the fee you feel is appropriate for your family.  This program is voluntary and in no way influences the experience children receive.  Our policy is to turn no child away due to inability to pay our camp tuition.  If you require more assistance, please select Tier 4 and apply for our traditional Financial Aid Program.
As you begin the summer camp registration process, please do not hesitate to call us with any questions (610-670-2267).  We sincerely hope that this new pricing structure benefits your family.  We can't wait to see you at Camp!
Nathan Brant, CEO
South Mountain YMCA Camps
***  This Tier Pricing Program does not impact:  Bynden Wood Day Camp, Camp Conrad Weiser's "Explorer" program for 7 & 8 year-olds, Speciality Camps (i.e. Riding, LIT and CIT programs), and the ICEP international trip programs.