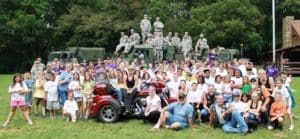 This summer YMCA Camp Conrad Weiser will partner with the National Military Family Association to host the 8th season Operation Purple Camp® (OPC). The mission of OPC is to empower military children to develop and maintain healthy and connected relationships, using the healing and holistic aspects of the natural world. This program recognizes that "kids serve too" and that they are our nation's greatest heroes. Over 100 children from military families that have a parent currently deployed or recently returned will experience a week of camp with their peers at no cost to the families.
HOW CAN YOU HELP? JOIN US FOR BREAKFAST AND/OR AN AFTERNOON OF BINGO…..
South Mountain YMCA Camps hosts 2nd Annual Pancake Breakfast
The staff at South Mountain YMCA Camps is getting ready for the 2nd annual Pancake Breakfast in support of Operation Purple Camp® Join us on Sunday April 7th at the Wernersville Fire House/Social Hall between 8 am and 1 pm for a warm and delicious start to your day. Breakfast includes pancakes, sausage and beverages, $6 for adults and $4 for kids under 12.
thirty-one Bingo
The South Mountain YMCA Camps are pleased to announce that we will be hosting our first ever  thirty-one bingo fundraiser on Saturday April 20th from noon until 4:00 pm at the beautifully renovated historic Bynden Wood Lodge. SMYMCA is thrilled to partner with Gretchen Manmiller and The Silver Bells Team to present an afternoon of fun and prizes from thirty-one's 2013 spring line. Tickets are $20.00 each and can be purchased several ways. Stop by the camp office Monday – Friday between 8:30 am and 5:00 pm, call the camp office at 610-670-2267 to pay by credit card or mail a check payable to South Mountain YMCA, noting thirty-one bingo in the memo section to PO Box 147 Wernersville, PA 19565 and we will mail the tickets to you.