INSPIRING SUMMER CAMPERS TO EXPLORE A WORLD OF WONDER
Surrounded by nature, Bynden Wood Day Camps's outdoor mountaintop facility provides campers with a unique summer camp experience. Bynden Wood's programming is based on the four core values of the YMCA (Caring, Respect, Honesty and Responsibility). At Bynden Wood, our staff truly believe that "Children Come First".

---
Getting Started
The Day Camp hours are from 8:30AM until 4:15PM, Monday-Friday. Families and campers are greeted in front of Bynden Wood Lodge and the day begins with new friends, songs and Flag Raising.
Campers, ages 5 (must have completed Kindergarten) -14, are assigned to their Tribe of 8-12 campers of the same age with two adult counselors. The camp day is full with a diverse activity schedule including one hour every day at the pool.
Bynden Wood Day Camp Dates Summer 2018
June 11 – June 15 Theme TBD
June 18 – June 22 Theme TBD
June 25 – June 29 Theme TBD
July 2 – July 6* Holidaze (No Camp Wednesday)
July 9 – July 13 Theme TBD
July 16 – July 20 Theme TBD
July 23 – July 27 Theme TBD
July 30 – August 3 Theme TBD
August 6 – August 10 Theme TBD
August 13 – August 17 Theme TBD
---
Bynden Wood Day Camp 2018 Bus Schedule
Green Route Pick Up Drop Off
McDonald's Parking Lot Rt. 419 & Rt. 422, Womelsdorf 7:25 5:20
Conrad Weiser High School 347 E. Penn Ave., Robesonia 7:35 5:10
Fecera's Furniture Parking Lot Penn Ave, Sinking Spring 7:50 4:55
K-Mart Shopping Center Rt. 724 & Rt. 222, Shillington 8:10 4:35
Red Route Pick Up Drop Off
Berks Co. Park just south of 12 & 662 intersection 7:35 5:20
Muhlenberg Middle School 810 Bellevue Ave 7:50 5:05
The Volunteer Firemen's Memorial Bandshell, Constitution Blvd, Reading 8:05 4:50
VF Factory Outlets (Lee Lot) Penn Ave., W. Reading 8:15 4:40
---
Rates
One Week Session with Bus Transportation is TBD per child.
One Week Session without Bus Transportation is TBD per child.
Lunch is included.
Holidaze*: As Tuesday is the 4th of July, Day Camp will not be in session this day. Camp will be held on Monday, Tuesday, Thursday and Friday of this week. Due to the shortened week, camp will be prorated at: TBD with bus transportation per child, TBD without bus transportation per child.
Multi-Child Discount: We do offer a Multi-Child Discount to Bynden Wood Day Camp Families. The first child in the family is full price and each additional child in the family is $10 off per session.
Additional Options:
Peak Overnights are held every Thursday.* $25/week
Cabin Overnights are held every Thursday.* $35/week
Horseback Riding Lessons (5, 1-hour lessons each week).* $125/week
Before Care 7AM $25
After Care until 5:45 $25
Both Before and After Care $40
*Spaces are limited, and registration is required. Spots fill quickly for Overnights, so if you are interested, please register for them early!

---
Menu for the Week of (Sample)
Monday: Turkey Sloppy Joe's
Tuesday: Grilled Cheese and Tomato Soup
Wednesday: Chicken Nuggets and French Fries
Thursday: Italian Sausage Sandwich and Pasta Salad
Friday: Chicken Sandwich
Lunch is provided for every camper in our program. Children may also bring their own lunch. Check back in this section during the summer months to get the current week's menu.
---
Tours of Camp
Several of our year-round staff call South Mountain YMCA Camps home. They reside at camp and are available to provide tours of our facilities. Please contact Allison Sternat, Bynden Wood Day Camp Director to schedule a visit to camp!
About Our Summer Camp
Bynden Wood Day Camp Activities 
At Bynden Wood Day Camp we create a schedule for your campers that allows them to try a little bit of everything that camp has to offer. Here's a taste of what we do each week!
Aquatics – Swimming – Recreational, Instructional*
Shooting Sports – Slingshots, Archery, .BB's
Creative Arts – Friendship Bracelets, Skits, Music, Crafts
Athletics – Camp Games, GAGA, Court and Field Sports
Adventure – Low Ropes Course, Climbing Tower, Zorbs!
Riding – Pony Rides, Riding Lessons*
Outdoor Education – Hiking, Wildlife, Reptiles, Wilderness Skills, Fishing
*Additional Fee
Family Nights
Every Thursday we invite our camp families to join us from 5:00-6:30pm for a free BBQ dinner and a campfire starring your campers and our staff!  This is a wonderful opportunity to meet your child's tribe leaders, speak with the Camp Director and enjoy camp with your camper.
Overnights
On Thursday Bynden Wood campers may stay and "camp-out" with us! Overnights include a cook-out dinner, evening activities, and breakfast and lunch the next day. Cost is $35 per camper to sleep in our Cabins at Camp Conrad Weiser, or $25 for a Peak Experience with s'mores and a fantastic night skyline view of Reading. Overnights fill up fast, so please register early!
Swim Lessons
At Camp, we believe it is important for all our campers to feel comfortable and confident in and around water. We are offering daily swim lessons for our campers which take the place of one morning activity period. Campers will participate in a 30-minute American Red Cross instructional lessons, with a 20 minute free swim period. Each lesson is taught by our trained Water Safety Institute (WSI) Instructor and each camper will receive a certificate for each level completed. There is an additional $50 fee associated with this program and can be booked at registration.
---
To Register
2018 Registration Coming Soon
To help you prepare for your child's experience at camp, please review our Parent Handbook.
---
Financial Assistance
South Mountain YMCA Camps strives to serve all people regardless of their ability to pay. We believe that all children should have the opportunity to experience camp. For information about our financial assistance program, please contact our camp office, or access our application here.
If you have any questions regarding registration, please do not hesitate to call or e-mail us! 610-670-2267 or ycamps@smymca.org.
---
---
Summary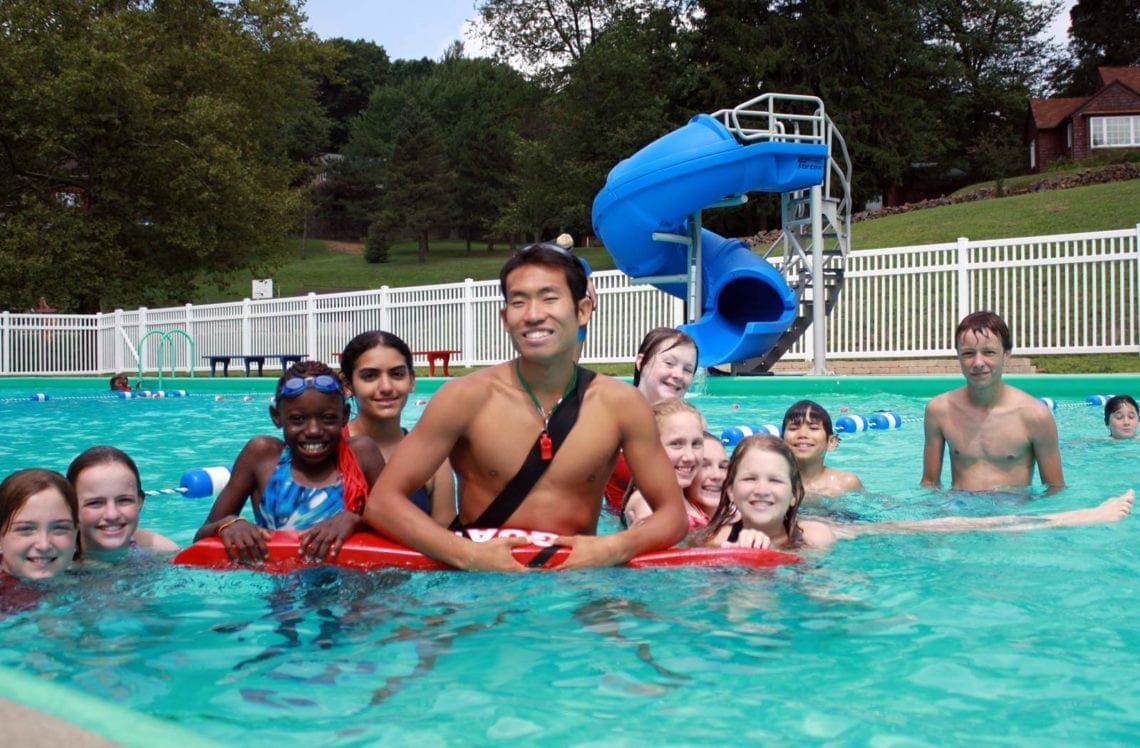 Service Type
Bynden Wood Day Summer Camp
Provider Name
South Mountain YMCA Camps
,
201 Cushion Peak Road
,
Reinholds
,
Pennsylvania
-
17569
,
Telephone No.610-670-2267
Area
Description
Surrounded by nature, the Bynden Wood day camp provides campers with a unique summer camp experience.