**As of 9/01/2020 We are accepting registrations for 3-day and 5-day/ week programs.
THE PROGRAM
The South Mountain YMCA Camps recognizes the struggle that families face while navigating distance learning, work, child care, and other activities. We are here to support you by providing the Online Learning Support Camp. While we cannot be your child's teacher, we can support them with their School District's Online curriculum.  Families enrolled in this program will receive the following:
Daily care from 7:30 AM to 3:30 PM
Access to after care (3:30 PM to 5:00 PM) at an additional cost.
Large, safe and clean work spaces that comply with CDC guidelines in sanitizing and social distancing.
The use of outdoor learning spaces as weather permits.
Internet access and electricity for charging devices.
Staff supervision and learning support with dedicated group sizes no larger than 10 students.
Daily social enrichment programs as well as outdoor activities that may include: Hiking, Climbing, Archery, Nature Programs, Boating, Field Games, Crafts, Cooking, Photography, Film and more!
Flexible schedule that supports the needs of every family. Families can choose between a daily rate, discounted 3-day program or discounted 5-day program.
Students will need to pack their lunch each day.
Students must be able to log their own devices onto internet to join their online classes independently.
This Program will begin on September 8th to children in all school districts. Online Learning Support Camp will follow the Conrad Weiser School District's virtual learning schedule. Once Conrad Weiser returns to 100% in person learning, this program will end.
---

RATES
$170 for a 5 day program
$120 for a 3 day program (Monday – Wednesday or Wednesday – Friday)
$ 50 for after care 5 days a week
$35 for after care 3 days a week
Financial Aid available. Please call the office at 610-670-2267 or email ycamps@smymca.org
---
SAFETY
For the health and safety of our students and staff, The South Mountain YMCA Camps will be following a series of safety protocols.
Outdoor spaces for learning and recreational activities will be top priority as long as the weather allows.
Groups of no more than 12 campers will be designated into "pods" to mitigate the spread of any diseases.
When indoor spaces are necessary, work stations are separated at a minimum of 6 feet.
Counselors will be wearing masks when in close proximity of each other and campers. Campers will be asked to wear masks when inside or close proximity to other people.
Hand washing stations will be used and encouraged at every program area.
Equipment and common surfaces will be sanitized regularly.
Health screenings and temperature checks are conducted for all campers and staff daily.
---
F.A.Q
What Happens if there is a case of COVID-19 at camp?
Camp may be closed in some circumstances due to confirmed COVID-19 cases or due to low enrollment. If camp is closed for any reason, families will be refunded for any services or programs we were unable to deliver.
Will there be transportation provided?
No. The South Mountain YMCA Camps will not provide transportation. Families must arrange for pick up and drop off in a timely manner each day.
If my child was registered for a 2020 program and I deferred funds to 2021, can I use these funds toward Online Learning Support Camp?
Yes. Please call Tracey at 610-670-2267 when registering.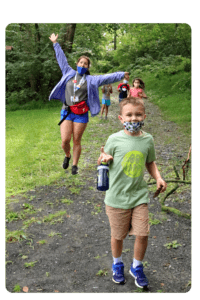 Will there be lunch provided?
No. Please send your child with a packed lunch that does not require refrigeration each day. Packing a snack is also a good idea.
Will children be required to wear masks?
Online Learning Support camp will use every opportunity possible to conduct the program outside. The staff will wear masks throughout the day. Children will not have to wear masks when outdoors. Children will be asked to wear masks when indoors or in close proximity to others.
Is there before and after care?
This program will have an option for after care from 3:30 PM to 5:00 PM at an additional cost. No before care will be provided.
Who is this program for?
Online Learning Support Camp is for all children (K-8) currently enrolled in a public or private school that had mandated either a 100% virtual learning or hybrid schedule.
How long will this program run?
Our goal is to run from September 8th (first week pro-rated for Labor Day) for as long as the Conrad Weiser school district maintains a virtual learning schedule.
What type of learning support is offered?
The staff at the South Mountain YMCA Camps cannot be your child's teacher. The staff will be able to provide guidance, structure and tutoring to the best of their ability. All children should be able to independently use their own devices to log on to the school's online curriculum.